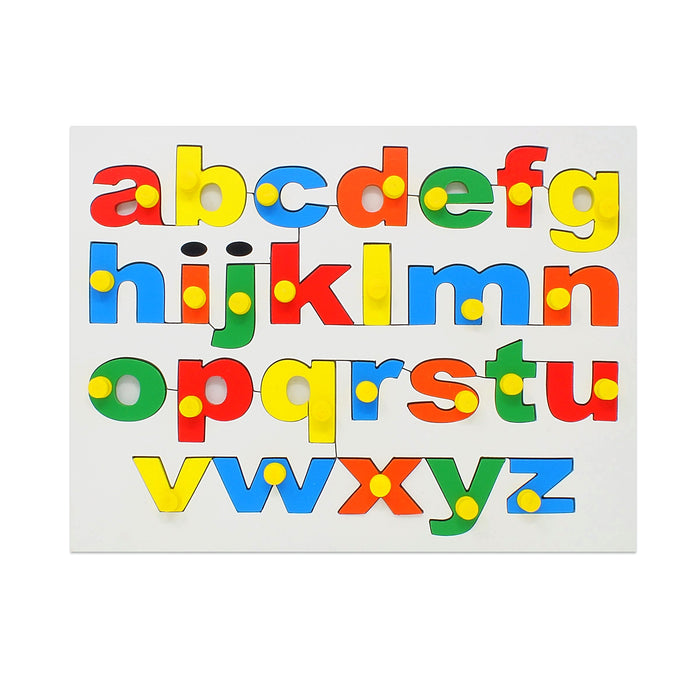 English Alphabet Board- Lowercase (abc) with Knob
by Explearn Toys
Key Features

Dimensions

Details
1) Bright colored and cheerful Lowercase letters.

2) Includes a piece for each of the 26 letters in the alphabet. No colors or images beneath the letters.

3) Each piece has a 9mm knob for children to hold the letters easily.

4) Perfect cutting of the board so each letter can be picked and placed back without chipping out the sides of the board.

5) Helps develop letter recognition and pre-reading skills. Encourages hand-eye, fine motor and visual perception skills.

6) Durable child-safe (water based) paint finish and solid wood construction.

7) Easy Clean - Wipe with a damp cloth and dry with a clean soft cloth.

8) Ages: 3+

9) Made in India.

29(L) X 22(W) X 1.8(H) cms

The bright and cheerful colors helps in Recognizing and Memorizing the lowercase alphabets. The knob on each letter makes it very easy for children to pick and place letters on the puzzle board. This Explearn Toys puzzle includes 26 pieces, one for each letter, and features the lower case form of the alphabet. Children will love spelling their name and different words.

Encourages the development of fine motor skills, basic spelling, and letter recognition.

Recommended for ages 3 years and up.

Made with organic wood sourced from naturally sustainable forests. Durable child-safe (water based) paint finish and solid wood construction make this a toy your child will love for years to come.

Explearn Toys stimulate children through every stage of development cycle and help develop their natural abilities.

All Explearn Toys meet or exceed all U.S. Toy Testing standards. Conforms to the safety requirements of ASTM F963.
5/5
TBS English Alphabet Board- Uppercase (ABC) with Knob
Letter puzzle
Some of the letters are difficult to get in as they only fit 1 way, but the letter could go 2 ways... like H, O, S, Z
Great experience
My students love these toys, totally recommend them!